Jennifer Hudson's longtime friend, Felicia Fields, confirms that the singer and her fiance David Otunga have held a baby shower in her native Chicago over the weekend.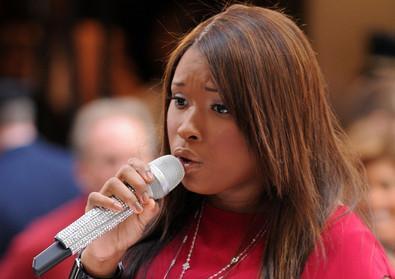 It turns out that rumors of Jennifer Hudson carrying a bun in the oven which emerged earlier this year are true as she reportedly has staged a hush-hush baby shower in her native Chicago on Saturday, May 30. Reporting the story for the very first time is Chicago Tribune.
The news media quotes Jennifer's longtime friend, singer/actress Felicia Fields, as confirming that the baby shower was a private affair. "It was a baby shower, a quiet gathering of friends and mostly family," she states, adding that Jennifer and her fiance David Otunga were "really trying to keep it kind of quiet."
Recalling the weekend shower, Felicia says, "It was a nice time that we had." Though so, she refuses to mention Jennifer's due date. Also keeping her lips tightly sealed on the baby's sex, Felicia insists Jennifer and David haven't found out the sex just yet. "They don't know [the gender]. More yellow," she answers when asked if the couple received blue or pink gifts.
Jennifer Hudson and David Otunga, who is a small screen actor, got engaged during her 27th birthday in September 2008. He reportedly presented her with a Neil Lane diamond ring when proposing. Planning to wed in the same year, the pair was forced to postpone their big day after Jennifer's mother, brother, and nephew were murdered back in October 2008.
In April, Essence magazine ran a report that Jennifer was pregnant with her first child. The publication claimed two sources confirmed the baby news. Her representative was quick to issue a denial though, saying "No no no no way" when asked if the singer and David were expecting their first child.
Comments
comments