Prince Harry looks dejected as his Zimbabwean girlfriend Chelsy Davy laughs as the South Africans go over for another try.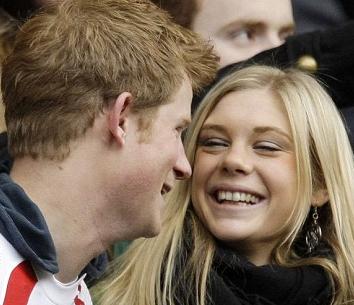 The couple spent yesterday afternoon watching England soundly trounced by the Springboks 42-6. Chelsy Davy was also spotted bursting into laughter as Prince Harry sings the national anthem.
The 24-year-old Prince had been wearing a beanie hat before the anthem but respectfully removed it before he began to sing. Onlookers said Chelsy maintained a straight face for a few moments but then she and another girl descended into mirth.
The Prince, in a replica England shirt, spent much of the time before the match laughing and joking with his glamorous blonde girlfriend.
Dressed in a jaunty green coat with black scarf and gloves, Chelsy, 23, could not stop giggling after he whispered into her ear at one point.
But here was little for the Prince to laugh at after the match began. England were drubbed 42-6 by the Springboks, much to the delight of his Zimbabweborn girlfriend, who read economics at Cape Town University.
Comments
comments