Prince Harry would like to spend more time helping children in Africa.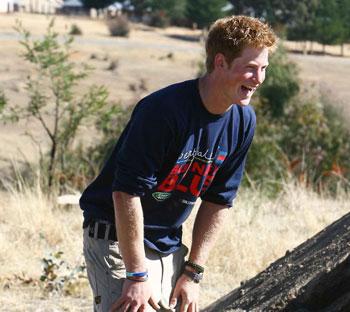 Britain's royal soldier-humanitarian is in the impoverished African kingdom of Lesotho this week to work with Sentebale — the charity he and Lesotho's Prince Seeiso founded in the memory of [Prince] Harry's late mother, Princess Diana.
The 23-year-old lieutenant, who visited a newly opened center for abused children, revealed, "I wish I could be out here more often. I do the most I can to come out here and see the kids."
Prince Harry first came to Lesotho in 2004, spending two months volunteering on local welfare projects. Landlocked Lesotho, surrounded by South Africa, is one of the poorest countries in the region.
Since then, the prince has upped his work with the army, and earlier this year was deployed in Afghanistan.
Sentebale was founded to help orphans and vulnerable children in a nation of 1.8 million people where about 300,000 children have lost one or both parents to HIV/AIDS. Many children are forced to leave school to look after younger siblings, and are open to abuse or exploitation.
The brightly colored Lesotho Child Counseling Unit is just one of a number of projects in which Sentebale is involved. Others include efforts to treat and educate about HIV/AIDS and help children with mental or physical disabilities.
The red-haired royal, dressed in khaki fatigues and a warm sweater, entertained a group of children living at the center. He pushed one delighted toddler around on a tricycle and joked with another on the steps of the courtyard.
Prince Harry added, "The vulnerable children of Lesotho will always be welcome here."
Comments
comments