Prince Harry stunned rugby fans by "cavorting" with his alleged new girlfriend at the rugby last weekend.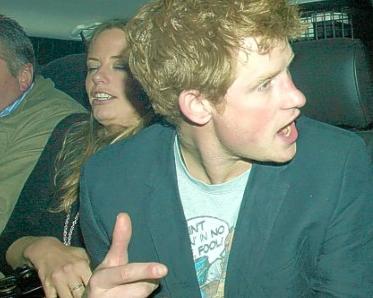 The 24-year-old royal invited Kate Middleton's friend Astrid Harbord, who was photographed going home with Harry after a night of partying at a London club last month, to Twickenham to watch Ireland play Wales.
After the game, the couple shocked onlookers with their raunchy behavior.
A source said: "[Prince] Harry and Astrid have been on a few secret dates over the past three weeks and things are going well. [Prince] Harry had a couple of hospitality tickets to the game and invited Astrid. He was trying to be discreet and didn't want 60,000 rugby fans – plus the TV cameras – catching him kissing her.
The source continued: "But Astrid seemed less shy. After the game and perhaps one shandy too many, the couple got fairly heated in the hospitality suite. Astrid jumped on Harry, sitting on his lap and behaving quite provocatively in front of him."
Even though hundreds of onlookers witnessed their antics, Harry was reportedly determined to hide his risqué behaviour from his aunt Princes Anne, who was also in attendance.
The source added: "There were quite a few well-connected people in the room who couldn't quite believe what they were seeing. Astrid didn't seem to care but Harry made sure Princess Anne was nowhere in sight."
But the 27-year-old blonde beauty is not the only woman in Harry's life – he has also been spending time with his former girlfriend Chelsy Davy.
The pair split in January after five years together, but Harry donned a long black wig to party with Chelsy at a club in south London last week.
Comments
comments