When her untouched photo was published online, Kim Kardashian has taken to her blog to respond.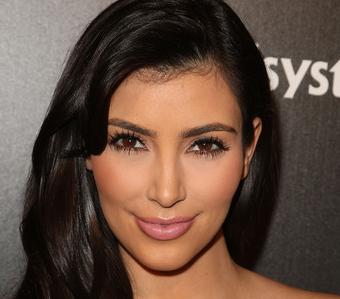 She wrote: "So everyone has been putting up these pics from Complex Magazine showing the comparison of the original un-photoshopped photo that mistakenly was put up on complex.com. This blog even went to the trouble to make an animation of the before and after."
"Complex later replaced the pic with the photoshopped version, causing all of this drama. But you know what, who cares!" the "Keeping Up with the Kardashians" star continued. "So what: I have a little cellulite. What curvy girl doesn't!?"
Kim Also wrote on her blog: "At the same time as this Complex shoot, I was gearing up for my fitness DVD and you should see my thighs now!!! Haha!"
She added: "This all motivates me to stay in the gym because my goal this year has been to get in better shape and tone up! Hard work pays off!"
Meanwhile, Kim Kardashian has revealed her physical flaws and discusses body image on Extra.
The interview, which airs March 27, has Kardashian noting, "You can be on the cover of a magazine, but it doesn't mean you're perfect."
Kim Kardashian isn't shying away from her critics when untouched pictures from her Complex magazine photo shoot surfaced.
Today, she told "Extra's" Mario Lopez, "No one's perfect and I never claimed to be, so why not show the before and after comparison to show people what I'm really like. Cellulite and all!"
When she first learned that the photos were published, Kardashian revealed, "I contacted them [Complex magazine] and was like, 'Guys, was this part of the shoot?' They apologized and I said, 'You know what. Send me both photos.' I'm going to talk about it because it is important for young woman to know that you can be on the cover of a magazine, but it doesn't mean you're perfect. All of this is all done up. Everyone has the fake lashes and the fake hair. The airbrushing to change the skin color. Come on, everyone has cellulite. Curvy girls do at least. Skinny girls do. So, why not!?"
"Extra's" interview with Kim Kardashian and her sisters, Kourtney and Khloe, airs tomorrow night.