Prince Harry went on a date with Australian pop star Natalie Imbruglia.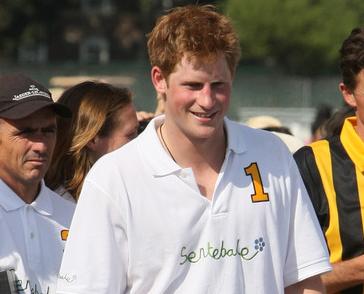 The 24-year-old royal and Natalie, 34 – who have met before – were delighted to see each other at The Killers concert in London's Hyde Park on Friday (26.06.09), and decided to share a meal backstage.
A source told Britain's The Sun newspaper: "Harry looked absolutely delighted to see Natalie when she arrived. They embraced warmly and shared a quick kiss.
"They were dancing and joking together for the entire duration of The Killers' set. At dinner, afterwards, they carried on chatting and laughing like old friends. Tom Jones joined them during their meal. They were having a whale of a time, drinking beer and wine before a round of shots."
The pair watched The Killers performing together from the side of the stage, before retiring backstage with friends.
Natalie and Harry became friends following his split from long-term girlfriend Chelsy Davy earlier this year, with Natalie making the prince guest of honour at her birthday party in February.
Harry was recently linked to British TV presenter Caroline Flack after the pair went on several nights out after being introduced at a mutual friend's poker evening.
However, their relationship is said to have cooled – with sources claiming it was never serious and they only shared a kiss.
A source said: "Put it this way, he could have gone the full Monty if he'd wanted to, but despite all the talk, when it comes down to it Harry is pretty careful about flashing it around."
Comments
comments