Prince Harry swapped his polo ponies for motorcycle horse power yesterday.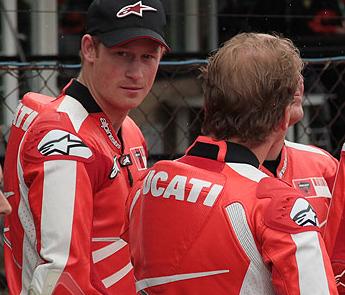 Dressed in red leathers and biker boots, he was a surprise guest at the MotoGP British Grand Prix.
Onlookers at Donnington in Nottinghamshire couldn't believe their eyes as the prince walked around the track.
But they were even more astonished to see him jump on the back of a Ducati superbike, which promptly did a wheelie and set off at breakneck speed for two laps during a break in the racing.
Like his brother William, Harry, 24, has been riding motorbikes since he was a child. He also has an £8,000 Triumph.
However he wasn't the one in the driving seat this time. The man carrying the pillion prince was MotoGP legend Randy Mamola who won 13 Grand Prix in his career.
A friend said: "[Prince] Harry loves his bike and has absolutely no fear, which may, or may not, be a good thing."
A St James's Palace spokesman said: "It was a private day out. The prince had a friend going to Donnington and jumped at the chance to go."
A Royal source said: "Harry enjoys the freedom of being out on the road.
"When he's out there, he's just another biker."
The trainee Army helicopter pilot did disappoint fans who had expected him at the Cartier International Polo bash in Berkshire.
Comments
comments