Could they be making sweet music again?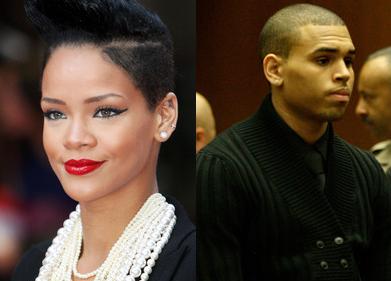 Just days after Chris Brown publicly apologized for his February beating of then-girlfriend Rihanna, the two spent the weekend at the same luxury Midtown hotel under a cloak of secrecy, The Post has learned.
The pretty "Umbrella" singer and "Run It" crooner — who is barred from seeing his former squeeze by a restraining order issued in Los Angeles — checked into separate rooms at the Trump International Hotel & Tower on Friday, hotel sources said.
They spent the next two days coming and going in separate chauffeured vehicles from the underground garage of the 52-story Columbus Circle building.
The two appear to have taken great measures to avoid public exposure, including the use of decoy vehicles to throw off reporters and photographers. As of last night, the secretive performers hadn't been seen together.
Neither Brown nor Rihanna had any public appearances or events to otherwise bring them to Manhattan, although London's Daily Mail reported that Rihanna is shopping for a Big Apple pad.
Last night, The Post spotted Brown, 20, leaving the hotel for Harlem, where he ducked into a building at 135th Street and Amsterdam Avenue.
A childhood friend whom Brown regularly visits lives there, said a barber who works in the building.
Rihanna's car sped away around 10 p.m. last night, sources at the hotel said.
About an hour later, Brown returned from Harlem and checked out of the luxury digs. A member of his entourage told The Post it was because "she [Rihanna] checked in."
At about 7 p.m. Friday night, Brown was seen leaving the hotel to go to the movies with friends, witnesses said.
Two hours later, Rihanna, 21, and at least seven friends left for the tony Philippe restaurant on East 60th Street, sources at the eatery said.
The former lovers haven't been spotted together since their Feb. 8 blowup in LA that left Rihanna bleeding and badly bruised.
Brown pleaded guilty to one count of felony assault and will be sentenced Aug. 5. Judge Patricia Schnegg is expected to sign off on a plea bargain that will keep him out of jail. The deal calls for Brown to perform 1,400 hours of community service and undergo domestic-violence counseling.
Schnegg ordered Brown to keep 50 yards away from Rihanna — or 10 yards if they're at the same music-industry event — despite Rihanna's plea that she didn't need protection.
If Brown is found to have violated the order — even with Rihanna's consent — he risks blowing his plea bargain and being charged with a misdemeanor.
Brown's lawyer, Mark Geragos, said he was unaware of his client's whereabouts yesterday and added: "I don't want to be quoted on something hypothetical."
Prosecutors, Rihanna's lawyer and publicists, and Brown's publicists did not return messages seeking their comments.