Prince Harry will be formally interviewed by his commanding officer after calling an Asian colleague a "Paki".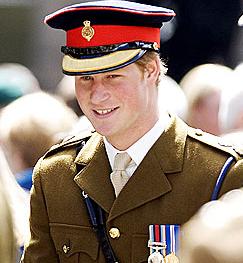 The young prince has already had one meeting with Lieutenant Colonel Harry Fullerton, the Household Cavalry's commander, after details of the Prince's "home video" appeared in a tabloid newspaper.
Senior sources have revealed that it is likely the Prince will be formally reprimanded over his actions and reminded that the military has a zero-tolerance policy on racism.
Captain Ahmed Raza Khan, who Harry described as "our little Paki friend" in a video he recorded while training at the Sandhurst military academy three years ago, has since revealed that he has received an apology from Prince Harry and now regards the matter as closed.
The officer, who is now serving with the Pakistani Army, revealed: "The Prince called me by a nickname which is usually very insulting, but I know he didn't mean it that way. He phoned me to apologize and I have no hard feelings. We need to close that chapter now."
In a separate development, a close Army friend of Harry's has told Royal Military Police (RMP) investigators that he believes the video may have been stolen from his computer.
The officer, believed to be a member of the Household Cavalry – the same regiment as Prince Harry – told the military police that many soldiers have had access to his computer in the three years since the video was made.
It is also understood that the RMP investigators are trying to establish whether the sale of the video to a tabloid newspaper constitutes theft.
The Sunday Telegraph has also learnt that General Sir Richard Dannatt, the head of the Army, was "disappointed and extremely cross" at Harry's use of the racist term.
A senior Government official also added that the use of the term "Paki" by the prince had done "immense damage" to the Army's attempts at recruiting more people from the Asian community.
The official said: "We have been going to great lengths at trying to make inroads into the Asian community because we want them to join the armed forces. Now what will they think? The term 'Paki' is deeply abusive – it is not a term of endearment."
The officer added: "Prince Harry has done untold damage and the impression I get is that he doesn't actually think he has done anything wrong."
Comments
comments