Prince Harry has failed one of his first pilot exams just a few weeks into his two-year course.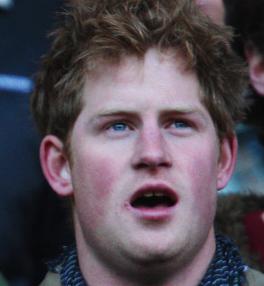 But there is no fear of him now having to fly by the seat of his pants—because Army Air Corps chiefs are giving him EXTRA lessons to ensure he passes a retake.
The 24-year-old royal, who we recently exposed for calling a fellow soldier a "Paki" during a training exercise, flunked the theory-based test at an RAF base in Lincolnshire.
Last night a Royal source revealed: "[Prince] Harry didn't reach the grade but he will have plenty of other opportunities to pass it. He will now be given extra tuition. It wasn't a case of Harry failing and being booted off the course. It's part of an on-going assessment."
The prince, who struggled at Eton before getting two A-levels in Geography and Art, is splitting his time between RAF Cranwell and RAF Barkston Heath, both Lincs.
His dream is to fly an Apache attack helicopter on the front line.
But if he passes his pilot's course he may get a reconnaissance Lynx or Gazelle chopper instead, depending on his flying skills.
The Prince remains in the Household Cavalry (Blues and Royals) but on attachment to the Army Air Corps.
Prince Harry's first weeks have been spent learning the basics of flying, on a Firefly fixed-wing aircraft.
His exam failure is yet another setback for him this year.
Comments
comments