He claims he was no good at school. So caked in sweat and dust, Prince Harry is sticking to what he says he does best – a spot of hard labor. And a little football.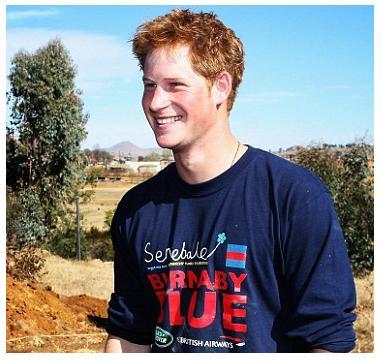 Yesterday the third in line in throne couldn't have been further from the London party circuit he loves.
But he looked equally at home helping with building work for his African charity Sentebale in Lesotho.
Along with 26 comrades from the Household Cavalry, he is in the southern African country for the next three weeks. One third of the 1.8million population is infected with HIV or Aids, and 40 per cent of children are orphans.
Prince Harry revealed, "I'm out here because I want to be – it's where I have to be. I first came out during my gap year and it was love at first sight. It is a wonderful country in spite of its issues."
Yesterday at the Thuso e Tla Tsoa Kae Community School, the 23-year-old prince and his team worked on building wheelchair ramps, a new septic tank unit and dining hall.
Prince Harry added, "I love physical labor, it's what I do best,' he said. 'I didn't do well at school."
His break was just as physically demanding – a soccer match with the children. For further information see: www.sentebale.org.
Comments
comments