Just weeks after i that Print was revealed that Prince Harry was stepping out with a pretty TV presenter, now he has moved on again – and set his sights on a stunning blonde.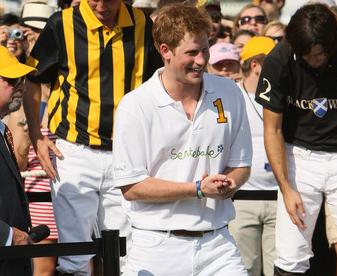 The 24-year-old royal is said to be 'rather taken' with attractive PR girl Stephanie Haynes, 30, who works for the luxury brand Armani.
The pair know each other because Stephanie is best friends with Charlotte Cowan, girlfriend of Harry's close friend Arthur Landon.
Harry and Stephanie enjoyed a night out recently and Stephanie, who is said to be smitten with the Prince, has excitedly told pals that he even invited her back to Clarence House.
"Stephanie is one of the loveliest girls you'll meet and Harry seemed rather taken with her," said a chum.
The chum added: "They were out with a group of friends and there was a definite attraction between the two of them and they have been in touch since. Harry has a thing for blondes and there are several he's always texting on his BlackBerry. Stephanie is one of them."
Last night a spokesman for Clarence House said: "The two met on one occasion as part of a group."
Stephanie used to date Jez Lawson, who organizes the annual Boodles charity boxing ball, which Harry and his brother William both attend.
Prince Harry was most recently seen out with Sky TV presenter Caroline Flack, 28, and has also been linked with singer Natalie Imbruglia.
He has told some pals he is enjoying the single life but has confided to others that he misses being in a relationship.
A source close to the Prince said: "He has a reputation for being a playboy, and he's enjoying being single but he's a very caring and sensitive soul and loves being in a meaningful relationship. He was gutted when things didn't work out with Chelsy."
They dated for five years but Chelsy Davy called off the relationship in February and announced she was newly single on Facebook, which is said to have hurt Harry deeply.
However, the pair have remained friends and Chelsy, 23, who is now stepping out with nightclub promoter Dominic Rose, has even invited Harry to visit her at her home in South Africa this summer.
Comments
comments