Prince Harry remembered his embattled pals fighting in Iraq as the London concert dedicated to the memory of his mother got underway on a somber note on July 1.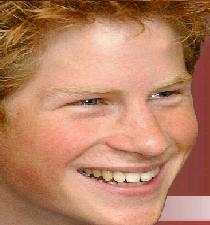 The 22-year-old prince joined his brother Prince William onstage at Wembley Stadium in front of an estimated crowd of 63,000 after Sir Elton John kicked off the Concert For Diana with a stirring rendition of Your Song.
The two royal princes nervously read from handheld cue cards as they thanked the masses for helping them celebrate what would have been their late mother Diana, Princess of Wales' 46th birthday.
Prince Harry then made a point of saluting friends serving in the Middle East. He revealed, "I would also like to take this opportunity to say hi to all the guys in A Squadron of the Household Cavalry, who are serving out in Iraq at the moment.
The prince added, "I wish I was there with you. I'm sorry I can't be. But, to all of those on operations at the moment, we'd both like to say 'Stay safe.'"
Security issues forced Harry to abandon plans to join the Household Cavalry regiment in Iraq.
The two princes then introduced their late mother's favorite band, Duran Duran, who dedicated hits Wild Boys to the young royals and Rio to the memory of their mother.
Comments
comments