Prince Harry reportedly sent a naughty action man figure of himself to girlfriend Chelsy Davy before he left for an exercise in Canada this week.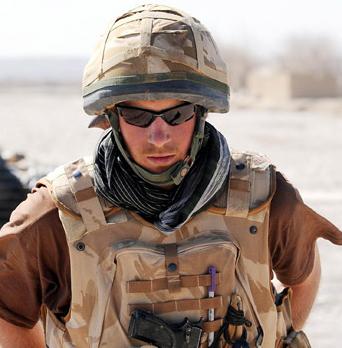 A look alike action figure to girlfriend Chelsy Davy, but that wasn't the only thing cute; there was a message tucked in the toys' privates that left Chelsy delighted!
The 23-year-old royal made some raunchy adjustments to the 12-inch doll – which is being sold kitted out in an Army uniform, representing Harry from his time with the Blues and Royals cavalry regiment in Afghanistan, on the internet for £68 – before posting it to 22-year-old Chelsy.
A source revealed: "He made a few hilarious changes that leave little to the imagination. She burst out laughing when she unwrapped the doll."
A friend of the couple said that Chelsy is tight lipped about the exact content of the 'private' message, explaining: "Apparently it arrived anonymously. But as soon as Chelsy undressed it she knew it was from Harry. There was something private written on the doll that indicated it could have only come from him."
The friend added: "She thought the whole thing was hilarious and immediately texted some of her friends to share the joke."
The 1/6th full gear collectible figure comes with uniform, accessories and weapons. Its getup matches that of Prince Harry's while he was deployed in Afghanistan. It is being sold on the internet for $140, with one of the sources being Hot Toys.
Prince Harry who celebrates his 24th birthday on Monday, September 15, is currently deployed in Alberta, Canada. It has also confirmed that the young royal was not responsible for racking up a staggering £5,000 bill during a night out at exclusive London nightclub Boujis.
Comments
comments