Prince Harry, who previously sent an action figure as a gift to Chelsy Davy, was voted and named "Britain's coolest young royal" as he celebrated his 24th birthday.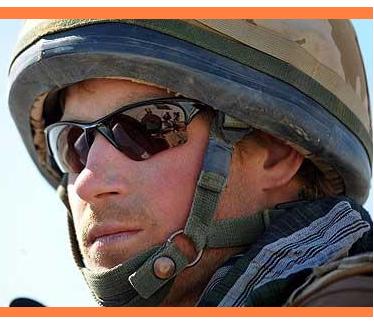 The 24-year-old royal prince, who is third in line to the throne, tops the list of coolest young royal followed by his cousin Zara Phillips, older brother Prince William and other relatives such as Princesses Beatrice and Eugenie.
Voters also remembered his recent service, as a Lieutenant in the Household Cavalry's Blues and Royals, in Afghanistan, his African charity work and his involvement with the glamorous South African Chelsy Davy as reasons for his appeal.
Prince Harry worked as a tactical air controller, which called up allied air cover in support of ground forces and mounting foot patrols. He spent 10 weeks in Helmand Province last Christmas but his deployment was cut short after a media blackout on reporting the news was broken by a website.
The young royal has talked about his desire to serve again in a conflict zone and the poll found 62 per cent of more than 3,000 people questioned believed he should return to the front, with 38 per cent saying he should not.
On the question which royal couple they most wanted a night out with, the voters picked Prince Harry and Chelsy Davy as their first choice (35 per cent), followed by Zara and Mike Tindall (33 per cent), Prince William and Kate Middleton (28 per cent), and Peter Phillips and wife Autumn (four per cent).
On Prince Harry's finest moment, 49 per cent believed it was carrying on his mother's charity work, 44 per cent said it was his service in the Army, four per cent said it was organizing last summer's Concert for Diana in memory of the Princess, and the remaining three per cent thought it was getting back with Chelsy earlier this year after the couple broke up.
On the question who was the coolest young royal Harry got 42 per cent of the votes, Zara got 35 per cent, William got 15 per cent and Eugenie and Beatrice both got four per cent, according to the poll conducted by MSN Entertainment.
On the question what is Prince Harry's infamous moment, his misjudgment in wearing a Nazi outfit to a fancy dress party (72 per cent), followed by being photographed drunk (16 per cent), scuffles with paparazzi photographers (10 per cent) and splitting up with Chelsy (two per cent).
The young royal spent part of this year checking on the progress of his Africa based charity Sentebale launched in memory of his mother Diana, Princess of Wales in 2006. This summer, he travelled with members of his regiment to the principality of Lesotho, where the team refurbished a school for children with special needs. He is spending his birthday on regimental duties in Canada.
Comments
comments