Prince Harry joined workers in fancy dress at global brokerage firm ICAP for the company's annual day of trading to benefit charity.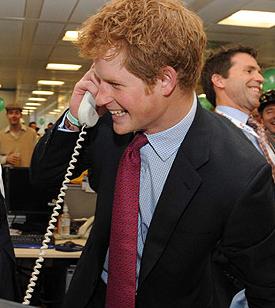 The young prince seems to throw himself 100 per cent into everything he does. So when the young royal was asked to broker a high-stakes deal in the City he stepped up to the challenge, joining stock market traders in fancy dress to close a £10 billion transaction.
Coached by a broker wearing a St Trinian's schoolgirl outfit, the Prince worked the phones at ICAP, a firm which holds an annual charity day during which all revenues and commissions are donated to worthy causes.
John Herbert, a company director dressed as Widow Twankey, was impressed as he explained: "(The Prince) did a 'ten yard' trade – a £10-billion sterling trade in something called a 'sonia', a sterling overnight index swap."
He continued: "When I shook his hand, he looked up and down at my outfit and said, 'That's absolutely wrong'."
He added that the third in line to the throne had been a bundle of nerves before the call, remarking: "I think I'm going to mess this up" several times.
Broker Amanda Hartnell, who was dressed as a St. Trinian's schoolgirl, added they "couldn't have got through the deal" without Harry.
Luckily Prince Harry pulled off the trade smoothly meaning his Sentebale charity, which cares for children in the African country of Lesotho, would be benefiting from some of the proceeds.
Comments
comments