Prince Harry, who previously spotted having helicopter lesson, has shown his support for a forgotten 80s band.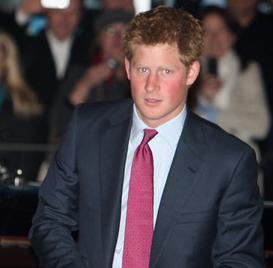 The young prince made a surprise appearance at a set by Daniel Takes a Train at London's Troubadour Club earlier this week.
Prince Harry happily posed for photos with the group, who reformed in June after a UK radio station launched a competition for former bands who wanted one last shot at success, and gave his approval to their Christmas single 'One Last Dream'.
A source revealed: "No one was expecting Harry to turn up to the launch. He wasn't on the guest list, but slipped in quietly with a minder. He wished the group luck with their new single."
This isn't the first time Prince Harry has watched the band play live.
In June, the 23-year-old prince was seen singing along as the group performed at a small club in West London.
Frontman Paul Baker said at the time: "We did a double take and pinched ourselves when we saw Harry. It was the surprise of our lives."
Backing vocalist Emma Gray added: "He was so sweet and lovely. It was magical. Now we've got the royal seal of approval!"
Daniel Takes a Train, who were formed in the early 80s, initially split in 1988 after failing to land a record deal.
Comments
comments