Britain's Prince Harry has had his first helicopter lesson.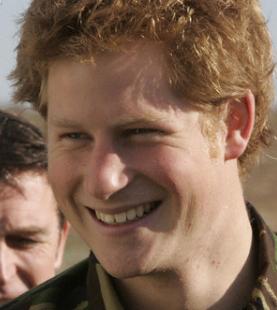 The 24-year-old prince began a month-long assessment course in order to fulfill his dream of becoming a fighter pilot yesterday (18.11.08) but knows he has a tough challenge ahead, with the grueling 'Grading' procedure having a failure rate of more than 50 per cent.
One insider at the Army Air Corps' base in Middle Wallop, Wiltshire revealed: "The Grading process is used to weed out those who do not possess the natural qualities needed to become a helicopter pilot.
The source added: "Just because Harry is a royal, it no way guarantees he will get through the next month. It may simply be that he does not have the coordination to make the grade."
The intensive course, which Prince Harry was allowed to undertake after passing initial assessments at RAF Cranwell – includes learning to fly a single-engine Slingsby Firefly training plane and notching up 13 hours in the air.
One former student said: "It's all about testing how fast you can learn. You have to master in a matter of just weeks what others take months, if not years, to learn."
Despite the warnings, the prince is said to be confident he can make the grade.
Speaking before the 70 minute lesson, a source said: "Naturally he was very nervous but Harry being Harry, he was raring to go. He knows the odds are against him but he is very serious about this career move. His grand-father, father, uncle and brother have all learnt to fly, so hopefully he is going to have an aptitude for it."
If Prince Harry successfully completes the month-long stint of lessons, he will spend a further two-and-a-half years training before he is given his first operational posting.
The prince is said to be desperate to be allowed to fly as, although he loves his current posting as an army tank commander, he believes piloting a helicopter will make him more likely to be allowed to return to the front line in Afghanistan.
A stint in battle was cut short earlier this year after his whereabouts was leaked to the media, breaking a black-out banning his presence in Afghanistan from being disclosed in case it makes him a terrorist target.
Comments
comments