On Friday, Prince Harry will start his first official visit to America, with plans including a stop at the World Trade Center site, meetings with wounded veterans and a polo match.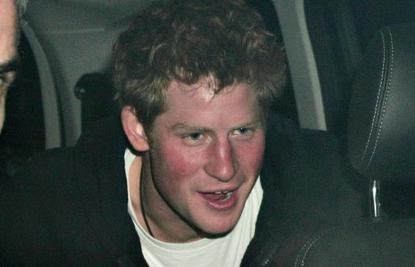 "Prince Harry is well known and respected in the United States for having deployed alongside U.S. forces in Afghanistan," said Alan Collins, the British consul general in New York.
Third in line to the British throne plans, no doubt, to be on his best behavior representing his country's crown during his two-day New York visit.
His grandmother, Queen Elizabeth II, is paying privately for Harry's travel and that of his staff, easing the young prince into his royal role. He's in line for the throne behind his older brother, William, and his father, Charles.
At midday Friday at the World Trade Center site, Harry is to meet with relatives of four people who died in the Sept. 11, 2001, attacks. They'll be joined by New York Gov. David Paterson and officials of the Port Authority of New York and New Jersey, the agency that oversees development at ground zero.
"It's a testament to our loved ones that royalty from another country is coming and expressing interest," said Monica Iken, who lost her husband, Michael, a 37-year-old bond broker.
"When Harry goes to ground zero, he can see how much progress has been made at this construction site," said Iken, who founded September's Mission, a nonprofit organization devoted to building a positive legacy in the aftermath of Sept. 11.
Later Friday, the prince will formally name the British Garden in downtown Hanover Square to honor the 67 British victims of the terrorist attack.
Harry also will visit the Veterans Affairs Medical Center in Manhattan, where he will tour the prosthetics facilities and a post-traumatic stress disorder clinic. He will be joined by Iraq and Afghanistan war veterans.
A British soldier who lost both legs in an explosion in Afghanistan will accompany Harry on his American trip. Joe Townsend, 21, stepped on a Taliban anti-tank mine last year in Helmand Province, about the same time the prince was commanding troops nearby.
Harry is training to be an Army helicopter pilot and was the first member of the royal family to serve on the front line since his uncle, Prince Andrew, fought in the Falklands in 1982.
On Saturday, Harry is to participate in the only recreational event on his public schedule _ the Veuve Clicquot Manhattan Polo Classic on Governors Island in New York Harbor, where he'll face off against Argentinian polo player and heartthrob Nacho Figueras.
The match will benefit American Friends of Sentebale, a U.S.-based charity that supports impoverished children in Lesotho, Africa, where the prince has worked and produced the documentary film "The Forgotten Kingdom."
Earlier Saturday, Harry is to see the Harlem Children's Zone, a community organization that offers families social and educational services. The prince will be accompanied by Sentebale's co-founder, Prince Seeiso of Lesotho.
Comments
comments