Prince Harry shocked a man from Doncaster, England after he strolled into a South African bar and asked for a drink.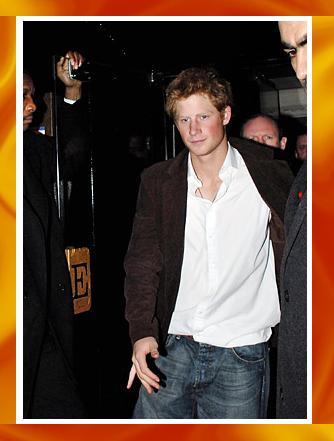 Brian Sables, who bought the Hop Inn two years ago, was shocked when the prince wondered into the establishment, especially because none of the other drinkers recognized him.
Brian revealed: "I just couldn't believe it when he walked in. No one over here recognizes him but of course I knew who he was but he never made reference to it. He was such a down to earth, normal bloke."
He added: "As soon as he realized I was from England he threw his arms around me and gave me a hug."
The young prince, who was in the country with his colleagues from the Household Cavalry Regiment, liked the bar so much he often returned to it, and even asked Brian if he could have one of the T-Shirts his bar staff wear.
Brian also revealed: "He wanted a T-shirt so he could take it home and tell his friends about the bar. I told him that only bar staff had T-shirts but that I'd let him have one in exchange for a photograph."
He added to the Doncaster Free Press newspaper: "He came in one night and was arguing amongst his friends about whose round it was. When they all told Harry it was his turn he asked me to lend him some money to get the drinks in. I couldn't believe it, but he came back in the night after to give it me back. It was just so funny. He was just like any other normal lad."
Comments
comments