He has one of the most recognisable faces in the world – which is a problem when he wants to keep a low profile in public. So Prince Harry has taken dramatic steps to disguise his identity, friends have revealed.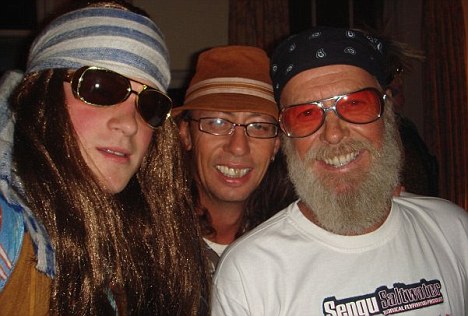 This exclusive picture shows the 24-year-old Royal hiding behind sunglasses, a bandana and wig after adopting his favourite disguise as a Rastafarian, an alter ego he calls Winston.
He has been spotted in the unlikely choice of outfit on a night out at a warehouse party in East London and, friends say, he regularly wears it to mix in with the public at other clubs and on trips to the shops.
Although the Prince dresses up in his disguise as a 'light-hearted joke', it is feared some might view it as offensive.
After all, it was only four years ago that he came under fire for dressing up in Nazi uniform at a fancy-dress party.
A source revealed: 'When his security guards suggested he wear a disguise to have more of a normal life, they didn't think he would turn it into a Rasta, but that's Harry for you.
'He's a real joker and he thought this would give his friends a good laugh. It's been the perfect way for Harry to go out without being the centre of attention.
'He even calls himself Winston when he wears his outfit. He doesn't mean anything by it. It's just a joke and he would never mean to offend anyone.'
Comments
comments