Prince Harry beams with delight as England's rugby win over Scotland becomes a family affair.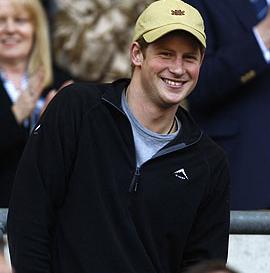 The Prince watched the 26-12 victory at Twickenham along with cousin Zara Phillips, 27.
And the Calcutta Cup trophy was presented by his aunt, Zara's mum Princess Anne.
Meanwhile, A meeting with Chelsy Davy kindled suspicions that Prince Harry may be trying to win back his former girlfriend.
Perhaps – after they got together at a friend's flat last weekend – their long relationship was about to begin again.
Apparently not. A few days after meeting Miss Davy, Prince Harry was out partying with a blonde who is a close friend of Kate Middleton.
The 24-year- old prince took Astrid Harbord back to Clarence House after an evening out.
It is the first time he has been pictured so close to another woman since splitting up with Miss Davy two months ago.
He was seen laughing and joking with 27-year-old Miss Harbord – who bears a striking resemblance to Miss Davy – at Raffles nightclub in Chelsea on Friday night.
After the club closed at 3am, the Prince escorted Miss Harbord back to Clarence House in his chauffeur-driven car.
They were reportedly driven through the back gates – reserved solely for members of the Royal Family – and up to the Prince's private flat.
They spent several hours together alone at Clarence House. Prince Charles and Camilla, the Duchess of Cornwall, were at Highgrove for the weekend.