Prince Harry, who wears his khaki service dress and a navy cap with red trim, has paid tribute to troops who died during his tour of Afghanistan after the news emerged of the deaths of four more British soldiers in the country.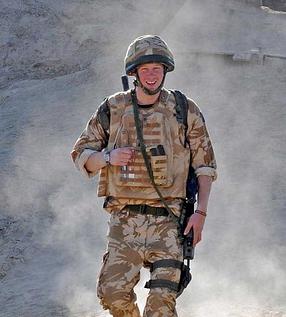 The Household Cavalry officer joined 200 servicemen and women on parade on the Royal Mile in Edinburgh before attending a service in the city's St Giles Cathedral.
The event was held in memory of 24 British, Danish, American and Czech troops who lost their lives during the deployment of 52 Infantry Brigade from October to April.
The 23-year-old prince spent ten weeks on the frontline before being flown home in February amid fears for his safety after his deployment was made public. His posting had been kept secret by the UK media to prevent details reaching the Taliban but he was removed after news was leaked on a foreign website.
Families of ten of the 11 British personnel who died during the tour were at the service.
The Rev Neil Allison, brigade chaplain, gave thanks for those who served their country "in the midst of intense conflict, for their resolution, perseverance and an undaunted spirit".
Many of those who lost relatives wept as the names of their loved ones were read out by Brig Andrew Mackay, the brigade commander.
After the service, Mr. Browne revealed, "I can't say to them 'I know what it's like' because I don't. I think you have to be in that situation to know what it's like, but I do know that it must be terribly painful. It must be very difficult. I met a family just minutes before who had lost their son, or brother or partner."
Mr. Browne added, "All of them have their own fantastic memories of that young soldier but they all have the pain of the gap that is there in the family. My message to them is talk to the soldiers who are here, talk to those people who have been in Afghanistan to see what his contribution helped to achieve."
Comments
comments