Prince William and Prince Harry, who previously participated a motorbike race rally, showed up at the world premiere of James Bond Quantum of Solace as they spent time to meet 200 servicemen, veterans and their families.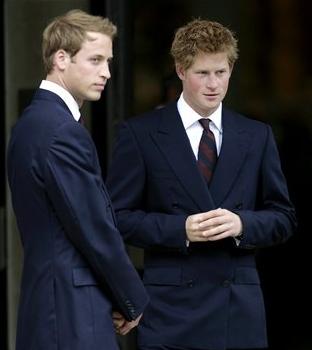 When the royal princes arrived at the premiere, they spent almost half-an-hour inside the Odeon in Leicester Square chatting to cast and crew.
The royal brothers used the event to help support their two charities: the Royal British Legion and Help for Heroes.
Gemma Arterton, who is "St. Trinian actress" wearing a revealing purple dress, revealed: "I had a nice chat. They are lovely guys, really charismatic and polite. We had a giggle."
Daniel Craig, who donned a black tuxedo and a sling from surgery on his right shoulder, arrived with US producer Satsuki Mitchell for the world premiere of Quantum of Solace in London's Leicester Square
The "James Bond" actor took the sling off as he greeted the royal princes with a firm hand. He also signed autographs and waved to the crowd.
Other Bond girl Olga Kurylenko, wearing a dramatic plunging red dress, also flexed for the Princes and told William she "got muscly" for the film.
Dame Judi Dench, 73, who plays M, also attended the event. On which Bond star she preferred working with – Craig or Pierce Brosnan, she revealed: "I can't choose, they have both got a huge sense of humor. You must not take yourself too seriously."
Comments
comments