Prince William and Prince Harry have branded the decision to broadcast crash scene images of their late mother Princess Diana as "wholly inappropriate and deeply distressing".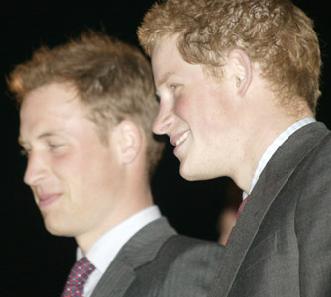 Jamie Lowther-Pinkerton, a senior aide for the pair, has written to U.K. TV network Channel 4 to request graphic images of Diana's final hours be scrapped from the show, due to air on the night of June 6. Among the pictures contested is one of Diana slumped in the back seat of the Mercedes moments after the fatal 1997 collision, and another showing a French doctor attempting to fit an oxygen mask to her face.
A statement from royal residence Clarence House revealed, "As of this morning (June 5), Clarence House had not received a reply from Channel 4. In publishing the letter, the Princes reluctantly feel that they have been left no choice but to make it clear publicly that they believe the broadcast of these photographs to be wholly inappropriate, deeply distressing to them and to the relatives of the others who died that night, and a gross disrespect to their mother's memory."
The letter, sent last Friday (01Jun07) by Lowther-Pinkerton, read, "If it were your or my mother dying in that tunnel, would we want the scene broadcast to the nation? Indeed, would the nation so want it?" Channel 4 insists it has weighed royal concerns against the legitimate public interest of the documentary and will not stand down.
Comments
comments