Prince William and Prince Harry on Saturday began a 1,000-mile motorbike race across South Africa to raise money for charity.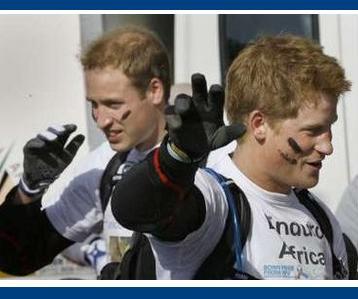 The royal brothers set off on an adventure Saturday, joining some 80 people on a motorbike ride across South Africa, from Durban to Port Elizabeth, over the course of eight days, covering a distance of 1,000 miles.
The princes spoke to reporters about the trip that organizers have called an "endurance test" across rocky and dangerous terrain while they are sitting on Honda CRF 230cc bikes in their protective biker gear.
Prince Harry, 24, revealed: "It's not just a bimble across the countryside that's for sure. It's going to be very challenging and we're expecting to fall off many a time."
According to Prince William, 26, they will cross more than 70 rivers and the off-road trail is both "rocky and hilly."
Prince William, who begins training in January to be an Royal Air Force helicopter pilot, joked about the river crossings: "We've got our arm bands in our back. We're ready to go."
Prince Harry added: "We never really knew what to expect, but by the sounds of things – the talks we were given last night – I went to bed shaking and didn't sleep that well."
Prince Harry, a lieutenant in the Blues and Royals Household Cavalry regiment, joked about spending time away from home with his brother. "We never really get to spend any time together. But it's great fun – well, I don't know yet, we'll have to tell you. We might argue [or] we might have a bit of fun. We'll have to see how it goes, but we're really looking forward to it."
Prince William quipped: "The pain of spending a week with my brother is well worth it."
The trip aims to raise money for three charities, including Harry's own Sentebale cause that helps disadvantaged young people in the African mountain kingdom of Lesotho, as well as UNICEF and the Nelson Mandela's Children Fund.
The princes suited up on Saturday in Port Edward, about 95 miles southwest of Durban, greeting children as they mounted their bikes for the long journey.
From Port Edward, they will cover approximately 150 miles per day on the light 200cc Honda CRF 230's supplied by the organizers.
Comments
comments