Prince William had to cancel his Valentine's Day (February 14) plans with girlfriend Kate Middleton because he was ordered to stay on his RAF base.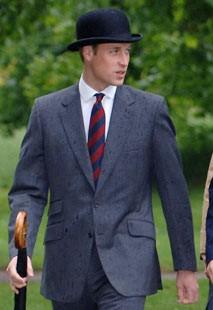 The 25-year-old prince, which is currently undertaking a four-month pilot training with the Royal Air Force (RAF) in North Yorkshire, was told he would not be granted permission to leave RAF Linton-on-Ouse to meet up with the brunette.
A source, which is close to the couple, said, "He thought he could slip out for a meal but the RAF wanted everyone to stay on base. Kate was going to drive to meet him halfway in Lincolnshire. Instead, they sent cards and exchanged gifts this weekend."
Prince William is keen to impress his RAF bosses and despite Kate's insistence they should meet to celebrate the traditionally romantic day he was unwilling to rebel.
The source added, "His bosses want him to focus and he wants to impress."
Meanwhile, Kate Middleton's friends are reportedly worried she will follow in the footsteps of Prince William's mother Princess Diana and Sarah Ferguson, the Duchess of York, and become a lonely 'military wife'.
Comments
comments