Prince William has reportedly ended the long-running feud between his family and the Fayeds by inviting the tycoon's daughters to a memorial service commemorating the tenth anniversary of Princess Diana's death.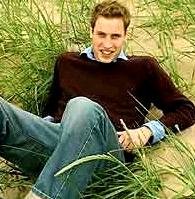 The 25-year-old prince and his brother Prince Harry were apparently "delighted" that Camilla and Jasmine Fayed were asked to next month's ceremony (31Aug07) – which also marks the passing of their brother Dodi Fayed.
A source revealed, "They lost a mother and the girls lost a brother. There is no bitterness on their part. It is a generational thing. The princes often see Camilla out and about. They are not close friends, but they are on polite nodding terms… They wanted to hold an olive branch out to the family."
Egyptian tycoon Mohammed Al Fayed believes the death of Diana and his son Dodi in an August 1997 Paris car crash was murder and not an accident, as has been ruled in previous investigations. Al Fayed has long alleged that Queen Elizabeth II's husband Prince Philip and Britain's Security Services conspired to kill Diana, and also that she was pregnant with Dodi's child at the time of her death.
Comments
comments