Prince William was seen partying with friends at the same nightclub where a fellow clubber Joe Knight was beaten to death.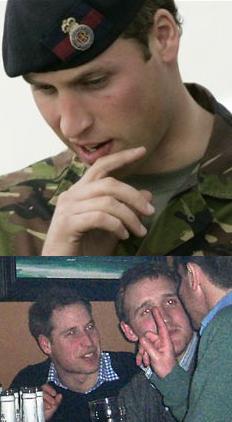 The fellow clubber suffered horrific facial injuries after being slashed with a broken bottle in a nightclub where Prince William had been partying with friends.
Prince William was spotted downing £1-a-time shots of powerful aftershock liqueur in Newquay's notorious Barracuda club early on Saturday morning.
Shortly afterwards, a fight broke out in the venue. The victim of the bottle attack required 35 stitches to his face and treatment to wounds he received on his hands as he tried to defend himself.
Three men have since been arrested but police are appealing for more witnesses to the attack. Clarence House confirmed that Prince William had been at the club but said he left before the brawl broke out.
Sources close to the young royal, which was accompanied by three Scotland Yard bodyguards, including a female officer revealed that he was shocked to hear that someone had been injured.
Prince William was taking advantage of the unseasonably good weather to enjoy boozy boys – only West Country surfing weekend with a group of his closest friends, including Harry Aubrey-Fletcher, whose father, Sir Henry, is Lord Lieutenant of Buckinghamshire.
The party stayed at the exclusive £170-a-night The Hotel in Watergate Bay. After arriving on Friday, they headed straight out to the beach.
Later the 12- strong group popped into the St Mawgan's Falcon Inn for dinner. Landlady Jan Marshall said the prince chatted with staff and customers after arriving at 8.30pm and stayed until midnight.
She added, "It was clearly a lads' weekend away and the prince and his friends were in a happy, party mood. When he left he gave me a kiss on the cheek and said thank you very much."
Afterwards the party headed to Barracuda, which was packed with almost 500 people taking advantage of its £1-per-drink promotion.
The prince and his friends grabbed a table in the upstairs section of the building, away from the dance floor, where they sat downing bottles of VK vodka and sickly-looking shots of 40 per cent proof red Aftershock.
The group stood out among the casually dressed clubbers as most of them were wearing relatively smart jeans, shirts and jumpers and had "posh" accents.
Barmaid Samantha Bazeley, 22, said, "People were trying to go up to him but his minders were stopping them."
DJ Steve Merrick added, "They sat there drinking but the prince wasn't spotted on the dance floor."
The violence erupted around 2.30am in the main area of the club.
A 19-year-old local man was taken to the Royal Cornwall Hospital in Truro, after being "glassed" with a broken beer bottle.
He received 15 stitches to his mouth and a further 20 to his face. He also suffered cuts to his wrists and a punctured hand.
Three men – two aged 18 and the third aged 19 – were arrested and have been bailed to return to Newquay police station on March 30.
A spokesman for Devon and Cornwall Police said, "This was a very nasty assault. The three suspects were seen fleeing the club on CCTV and arrested. Inquiries are ongoing and we are asking anyone who may have information to come forward. The officers who attended the scene had no knowledge of the presence of Prince William in the nightclub."
A Clarence House spokesman revealed, "[Prince] William's group arrived at the club just after midnight after going out for dinner and had a few drinks. They didn't really like the place, however, so they left about 1.30pm and decided to call it a night. Prince William was totally unaware of what subsequently happened."
The following day the 25-year-old prince and his friends were back on the beach before watching England's Six Nations rugby match against Italy.Later they enjoyed a meal at Jamie Oliver's Fifteen restaurant. The group had a final breakfast on Sunday morning followed by a few more drinks on the balcony of their hotel.
Comments
comments