Prince William has been slapped with a four-month booze ban, following the announcement that he is to train as a pilot with the Royal Air Force (RAF).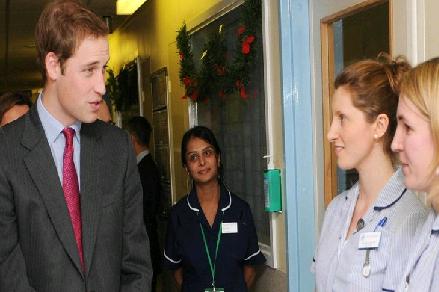 The young British royal has been asked to abide by the force's "bottle to throttle" rule from next week when he starts his helicopter pilot's course.
The 25-year-old prince will be restricted to two pints of beer a day, and will be forbidden from drinking alcohol after 8pm, for the 12 hours before duty must be dry.
The future king will be based at RAF Cranwell, Lincs, where his father, Prince Charles learned to fly in 1971.
Group Captain Nick Seward revealed, "Flying Officer Wales will be realizing a personal ambition to learn how to fly, and this will be the beginning of a lifelong relationship with the Royal Air Force. He will be subjected to our 'bottle to throttle' rule like everyone else. He will not be able to drink alcohol at least 12 hours before flying."
Though the RAF pilot training can last up to four years, the officials have fashioned a fast-track course to allow William to earn his wings by the end of April.
Squadron Leader Kevin Marsh who will supervise William's attachment said, "We've adapted his course and have cut out anything superfluous because we're not teaching him to be an operational pilot, we're teaching him to be a competent pilot. It's going to be pretty tough. We expect him to work five days a week. He'll be flying probably twice a day and study in the evenings as well."
Meanwhile, the young royal met the firefighters and hospital staff on Friday after a huge fire ripped through Royal Marsden Hospital in London, England. He is president of the hospital and took time out to meet with cancer patients that were moved to The Royal Bompton Hospital in Chelsea. Over 160 patients and 800 staff were evacuated from the hospital including two patients undergoing surgery at the time. Only four people needed assistance due to smoke inhalation on the fourth floor of the building.
Comments
comments