Prince William has hinted he would like to follow in the army-booted footsteps of his younger brother and fight on the front line.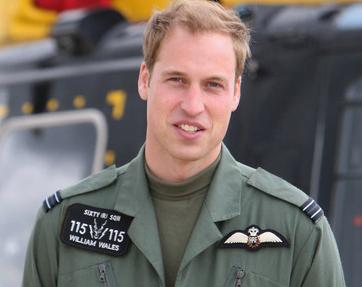 But, as the future king, it's unlikely Prince William would be exposed to the dangers faced by Prince Harry, who served in Afghanistan.
"I still remain hopeful there's a chance," Prince William, who is currently training to fly search-and-rescue helicopters, told reporters. "I think as a future leader of the armed forces, it's really important you at least get the opportunity to be credible and to do the job I signed up for, as best I can. That's all I want to do.
"The search and rescue role is now slightly different to obviously being able to go to Afghanistan, but it's still doing an important job."
Prince William learned to fly during a stint with the Royal Air Force last year. He was criticized for landing one RAF chopper on his girlfriend Kate Middleton's lawn during his training, and for using another to fly to a bachelor party on the Isle of Wight.
Prince Harry, 24, known in the military as Lt. Henry Wales, is taking the same flight training program completed by his 26-year-old brother.
Maj. Zog Zvegintzov, the commanding officer of the defense helicopter flying school in Shawbury, western England, has declined to say what role the younger prince would eventually have.
Prince Harry, who was denied the chance to go to Iraq when the British army said it was too risky, served in Afghanistan last year as a battlefield air controller until his time was cut short by a media leak. He now could spend four months to a year training in one of the British Army's helicopters: the Apache, the Lynx or the Gazelle.
Zvegintzov said that the choice of aircraft and where it was deployed would depend on the British military's operational requirements at the time, adding that Prince Harry was still a long way from completing his training.
"There are a lot of hurdles to jump en route to qualifying as an army pilot," Zvegintzov said.
The news conference was orchestrated to brief the media on the brothers' progress and to sate the public's appetite for news and pictures. Prince Harry and his brother strolled out of an aircraft hangar to pose in front of two helicopters left idle on the tarmac as a long line of photographers snapped away.
"We're both here just doing our bit, trying to become helicopter pilots," Prince Harry said. "We're having a fantastic time. Yes, it's hard work, but everything is hard work."
Prince Harry's bemused fellow students watched from a distance. They said they had come to watch Prince Harry hold court before the world's media.
"It's probably good for them, to have one day for the press to ask all their questions and get on with it," said flight school student Robert Carr, 24. "It's hard enough going through the course, I can't imagine what it's like for them."
The elder prince talked about living with his younger brother. Joking around, Prince William said, "Bearing in mind I cook (for) him and feed him basically every day, he's done rather well."