Daniel Radcliffe can't talk to girls.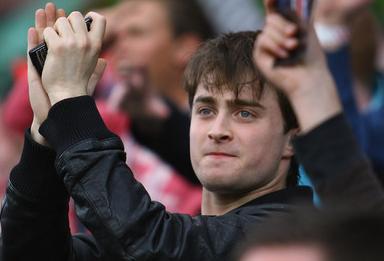 The "Harry Potter" star says gorgeous women queue up to talk to him, but lose interest as soon as they hear him speak.
The 19-year-old actor said: "I'm a terrible person to be a sex symbol. I'm no good at flirting with people. The lust thing generally stops when they meet me, because I'm not a particularly sexy person to talk to. I'm not good at chit-chat. I can't do pick-up lines."
But Daniel – who is currently shooting the final film in the boy wizard franchise, based on JK Rowling's books – is convinced he has one redeeming feature, his excellent taste in music.
He explained: "I have cool taste in music. I think ex-girlfriends have told me that. That's quite sexy. But they are ex-girlfriends!"
It seems Daniel's romantic shyness extends to his career.
He recently revealed he finds sex scenes boring, saying: "Whenever you watch those scenes you think, 'That must be so sexy to do and wouldn't that be amazing?'"
He added: "You wonder how those actors manage to control themselves but when you're doing it and there's people watching you, there's nothing sexy about it at all. It is not in the least bit exciting, no matter how beautiful the girl is."
Meanwhile, the actor was spotted as he cheered on England during the ICC Twenty20 World Cup match between England and Pakistan at The Brit Oval on June 7, 2009 in London, England.
Comments
comments