Paparazzi aggressively pursued Prince William and his girlfriend Kate Middleton early Friday as they left a nightclub, speeding through the streets of London after photographing the couple revealed by the spokesman for the 25-year-old prince.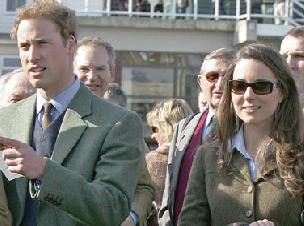 The chase coincided with the start of an inquiry this week into his mother's death in a 1997 car crash after being pursued by photographers.
British newspapers showed pictures of Prince William and Kate Middleton in a car after leaving a London nightclub in the early hours. '
Paddy Harverson, the spokesman, revealed that "Threatening" paparazzi then chased the couple in their car, saying, "Having already been photographed leaving the club, he and Kate Middleton were then pursued in his car by photographers on motorcycles, in vehicles and on foot. The aggressive pursuit was potentially dangerous and worrying for them."
The photos of the couple were published in the same week as pictures of William's mother, Princess Diana, leaving the Ritz Hotel in Paris in 1997, as part of the inquest into her death. The inquiry is charged with determining how Diana came to die with her boyfriend Dodi Fayed in a car crash while being pursued by paparazzi.
Paddy Harverson added that it "seems incomprehensible, particularly at this time, that this behavior is still going on."