Prince William and Kate Middleton were seen having a romantic candlelit meal at a London restaurant last week.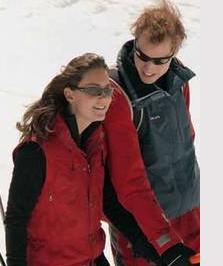 The 25-years-old prince was seen cupping the brunette's face lovingly in his hands as they sat side-by-side at a small table at Kensington's Italian eatery Locanda Ottoemezzo last Wednesday.
A fellow diner revealed, "It was remarkable because there were other people in the restaurant. My only guess is that they were well away from their usual patch and knew nobody would expect to find them their. They were certainly very relaxed and there was no-one else in their party to spoil the atmosphere. The staff didn't pester them, so I guess the evening worked out."
The source added, "William's protection officers appeared to be outside the restaurant in a car so it looked like they wanted to be completely alone. They certainly appeared to be happy in one another's company, especially William."
The royal couple ordered limoncellos, which is the Italian lemon liqueur, to complete their perfect evening.
It was recently reported that Prince William has confided in his grandmother Queen Elizabeth that he is ready to propose to Kate Middleton. The 25-year-old brunette beauty will have her first official meeting with the queen since the couple's brief split when she visits the royal Scotland residence Balmoral later this month.
Comments
comments