Prince William and his brother Prince Harry apparently had a hearty laugh on their grandmother's weeing.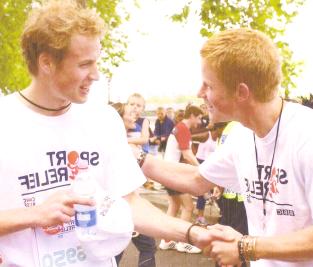 The young royals roared with laughter after stand-up comedian Ricky Gervais poked fun at the Queen's toilet habits at one of his shows recently.
A source revealed, "They slipped into their seats just before the curtain came up. Like everybody else they were laughing out loud throughout the show – even when Ricky joked about the Queen. He told this hilarious story about how she came to visit a factory his dad worked in during the 1970s.
A source continued, "Apparently the company spent thousands installing a special toilet for her use – but she didn't need to go. Ricky was screaming that the least she could do was come back and take a trip to the loo after all that effort. He was begging her to do a wee!
The source further said that rather than being offended by the sarcastic story, the Princes "bent double with laughter."
The source added, "Far from being upset, Wills and Harry were bent double with laughter. People were looking to see how they'd react but they've got a good sense of humor."
A spokesman for Ricky Gervais confirmed the thrill experienced by the royals, saying, "The two princes had a top night."
Comments
comments