Prince William and Prince Harry are to take another important step in their increasingly high profile public roles by setting up their own private office.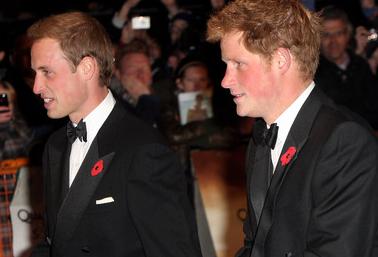 The move from under the protective wing of the Prince of Wales was approved by Queen over the weekend. It is expected to be announced by Clarence House imminently
The young princes' office will be based in St James' Palace where the Prince of Wales lived and worked until he moved into the newly renovated Clarence House after the death of Queen Elizabeth, the Queen Mother in 2002.
It is a significant step for the two young princes in establishing some independence from their father who fully supports their elevated new status.
However, the princes' operation will be funded by the Prince of Wales from his Duchy of Cornwall income so there will be no cost to the taxpayer.
The changes mean that not only will they operate from their own office but they will have their own headed paper which will be embossed with their personal crests.
The Princes were involved in designing the crests which incorporate an emblem from the family arms of their mother, Diana, Princess of Wales. Prince Harry's crest – a lion and unicorn, either side of a shield, topped by a coronet and second, smaller lion – is based on one created for Prince William on his 18th birthday.
They will have a small team of staff which will report directly to the princes headed by their private secretary Jamie Lowther-Pinkerton, a former SAS officer.
They took another key step in becoming more independent from their father with the appointment in the autumn of their own press secretary Miguel Head who worked closely with Prince Harry on his secret 10-week assignment to Afghanistan.
The princes now regularly appear in the Court Circular, the official record of the Royal Family's public engagements. Last year Prince William carried out 24 engagements and Prince Harry 17, which included two overseas.
While there will be no increase in official engagements this year because of their military duties they will be taking on more charitable work. It will be announced in the next few days that the princes are to become a patron of a new charity.
The Prince of Wales was given his own private office after his investiture at Caernarvon Castle in 1969 when he was aged 20. Prince William is now 26, Prince Harry is 24.
The office change has been under consideration for months and would have swung into place if, as expected, Prince William had left the Army at the end of December to become a full-time working member of the Royal family. But he changed his mind and decided to pursue a new career as a search and rescue pilot in the RAF. He begins training in his new role in the next two weeks. Prince Harry will also begin training as a helicopter pilot.
Clarence House declined to comment on the change in the status of the princes but one source revealed: "It is part of the natural progression of William and Harry as senior members of the Royal Family. It is like their coming of age as it was for a young Princess Elizabeth and young Prince of Wales."
Another source said: "They are often referred to as 'the boys', but they are young men in their mid-20s with their own ambitions. The thinking is that now they have taken on more engagements, they need the backup an office can provide. In a way, it's a natural evolution."
Comments
comments