Caring Prince William warmed the hearts of ill and disabled children yesterday and earned the title: Prince of Cuddles.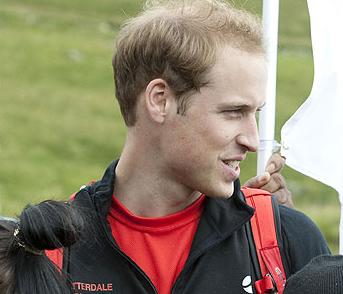 He joined the youngsters for a boat trip in the Lake District – and soon became pals with eight-year-old Harrison Holmes.
Lily Slater, five, was a little more bashful – turning her head as William gave her a squeeze.
But she said later he was "very cuddly".
Lily, from Boldon Colliery, Tyne and Wear, has been treated for a malignant brain tumour which developed when she was three.
Her mum Shirley, 40, said Wills was "very natural" and "just lovely".
She added: "He asked all about Lily's illness and seemed very happy to talk."
The 27-year-old prince joined the group on a trip around Ullswater as patron of WellChild – a charity which cares for sick children.
William thrilled the youngsters by arriving alongside their vessel in a bright orange RIB speedboat.
Sam Bealing, six, of Manchester, squealed with delight as William tickled him under his arm.
And 12-year-old Merseysider Jade Arnell was overjoyed when the prince tenderly held her hand in his.
WellChild director Linda Partridge said: "We are delighted Prince William is choosing to hear first-hand these amazing stories of bravery.
"It is so important to celebrate and reward the courage of wonderful children like Lily.
"We hope everyone had a truly memorable day out."
Meanwhile, Prince William struck up an unlikely friendship yesterday with a teenager who has NINETEEN piercings on his face and body.
Wills, taking part in a second charity outing in the Lakes, met Jonny Glendinning, 18, and other homeless youngsters from Centrepoint in Newcastle.
During a two-hour fell walk in torrential rain the prince joked that Jonny's facial piercings might freeze in the bad weather.
And Jonny, made homeless last year when his mum threw him out, said: "He was a bit surprised when I said they have done before. He was a lot more down-to-earth than I expected. He was canny."
Team leaders from the Mountain Rescue charity, for which William is patron, arranged the expedition.