Twilight costars Robert Pattinson and Kristen Stewart pose rather provocatively on the front cover of the upcoming issue of sci-fi magazine SFX.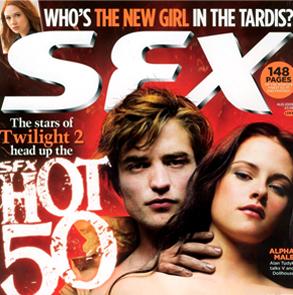 Pattinson, 23, and Stewart, 19, reunited at Comic Con in San Diego Thursday. They have spent most of the summer apart. Kristen has been in Los Angeles filming Joan Jett biopic The Runaways; Robert has been in New York filming indie drama Remember Me.
The pair attended the convention to promote Twilight sequel New Moon, which hits movie theaters in November.
Asked how New Moon is different from Twilight, Stewart said, "This movie's not about discovery or falling in love. It's an intense emotion, but low."
Rob added, "It looks so different. The script was different. It's a different mood."
Pattinson also talked about taking a backseat in this flick and letting Taylor Lautner shine as the leading man. "I was much more a supporting role in this one," he said. "It was great for me, all the pressure was on Taylor."
Kristen and Rob were recently praised by New Moon screenwriter Melissa Rosenberg.
"They're just people you can feel like you can relate to them," Rosenberg said. "That sets them apart in a lot of ways."
Comments
comments