Prince William is being headhunted to become chief of the legendary SAS force.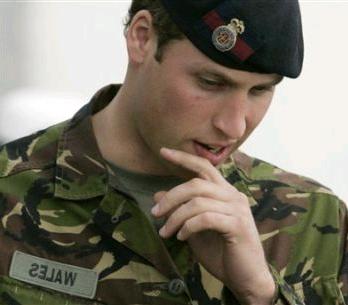 Senior officers in the crack army regiment have invited the 25-year-old prince to take over as their new Colonel-in-Chief. They want to make him an honorary member of the unit, entitled to wear the SAS beige beret and cap badge for ceremonial occasions—but not its famous wings symbol.
Prince William would not be expected to undertake SAS training but he has already shown a keen interest in the secretive special force.
One senior military source revealed, "His interest has not gone unnoticed — and the offer has now been made. It's known as the best job in the army and, if he wants it, it's his."
Palace chiefs have been grooming him for promotion in all three services and insiders suggest his title of Colonel-in-Chief could be expanded to cover ALL Britain's special forces.
During his stint with the Cavalry, the prince repeatedly visited the top-secret home of the SAS in Hereford to learn more about the elite team. He will go there again in the New Year to unveil a statue to SAS hero Paddy Mayne, whose daring wartime exploits earned him fame as one of the unit's founders.
A former officer now serving with the SAS Association added, "We would very much welcome HRH as Colonel-in-Chief. If it goes ahead an officer would be appointed as his equerry."
Comments
comments