Prince William may be heir to the throne but it looks like he is quickly losing his hair.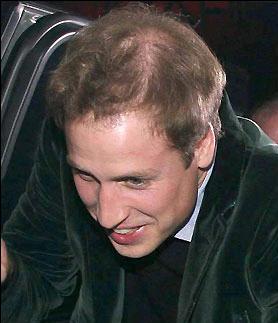 The 25-year-old prince, who was snapped leaving Mahiki nightclub in London at 3am, has clearly lost quite a bit more hair from that once luxuriant crown. Sections of pink scalp peep out between tousled blond strands apparently combed forward in an attempt to hide the problem.
The prince, who had been partying with friends but without his girlfriend, is said to be sensitive about his looks, particularly in the hair department, and tends to wear a baseball cap when out socializing.
The first signs that William's locks were in retreat were spotted when he was 20 – coincidentally at the same polo ground in Cirencester where his father Prince Charles's tell-tale patch was noticed, albeit at the more advanced age of 28.
Comments
comments