Prince William shocked staff at a Dorset supermarket by splashing out nearly $1,700 on alcohol. The prince, who was dressed in a T-Shirt, baseball cap and jeans, filled four trolleys with wines, spirits, beer and snacks during his hour-long shopping spree at Weymouth's Asda store.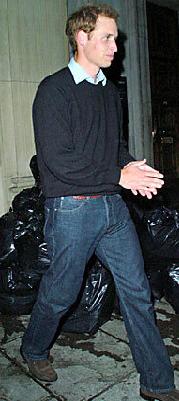 The 24-year-old prince even cleared the supermarket out of the popular summer drink Pimms.
Darren Rideout, the store manager, revealed, "He came in the store at 2:10 p.m. with two bodyguards. He had four trolley loads of shopping which was mainly alcohol and snacks. He cleared us out of Pimm's."
Prince William reportedly seemed relaxed and was happy to chat to customers who recognized him.
The store manager added, "He appeared as a normal customer. A few people came up and spoke to him and he was laughing and joking with them. The check-out girl didn't actually recognize him and he packed his own shopping. They left at 3:15 p.m. with the Prince in a black Audi followed by two black Range Rovers."
Prince William is training to be a troop leader at Bovington Army Camp, 15 miles away from Weymouth.
Comments
comments