Prince William has taken girlfriend Kate Middleton on a surprise Scottish holiday with his father and stepmother.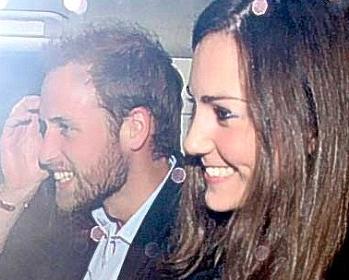 The intimate family gathering will inevitably lead to rumors that the couple are likely to become engaged soon.
The 26-year-old prince has been dating Miss Middleton for six years and had been expected to take a skiing trip with her in his last few days of freedom as soon as he starts training as an RAF Search and Rescue helicopter pilot.
A friend revealed: "Their decision to fly up to Scotland has taken everyone by surprise."
The couple have only just been reunited after spending Christmas apart, as dictated by royal protocol.
Miss Middleton flew to Mustique with her family for the holiday, while William was with the Royal Family at Sandringham for their traditional celebrations.
On New Year's Day, they traveled up to the Highlands from London, accompanied by Prince William's bodyguards from Scotland Yard. They will spend several days at Birkhall.
Prince William and Kate have rarely been seen out and about in recent months, leading to speculation that their romance was, once again, on the rocks.
But sources close to the couple insist they are 'as strong as ever', and have merely attempted to keep their relationship out of the limelight, as they felt pressurized by the level of publicity it had been receiving.
In fact the pair have chosen to socialize in a low key way among a small group of loyal friends, spending time at several weekend-long house parties, including a three day shoot held by Arthur Landon, son of the late Brigadier Tim Landon, who was one of the wealthiest men in Britain.
"They are still very much together, they just want to keep things below the radar and not be seen out and about," according to a source.
Another source revealed: "This is the first time Wills has taken Kate away with his father. It has certainly caused some excitement."
A special bash has been planned for Friday — Kate's birthday.
The pair have been dating for six years. Kate is said to be keen to become engaged before she is 30.
Comments
comments