Prince William uses his "wing man" to make the first contact with girls, so he can judge if they are pretty enough to talk to.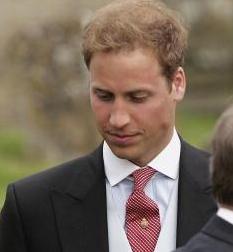 The prince – who split from long-term girlfriend Kate Middleton in April – has a unique pulling technique when partying in London with best friend Guy Pelly.
A source revealed, "When [Prince] William and Guy go to Boujis or Mahiki, they will do laps around the club looking for gorgeous girls. If [Prince] William sees a girl he likes, they will approach and Guy will tap her on the shoulder so that she turns round and [Prince] William can get a look of her face."
A source added, They look her up and down and [Prince] William makes his mind up whether to talk to her or not. If the girl is successful, she will be brought over to their table and if not, the boys just walk off."
Prince William, 24, appears to be making the most of his newfound status as Britain's most eligible bachelor and has been romantically linked to a string of beauties.
Shortly after he split with Kate, the prince was seen getting cozy with Sir Richard Branson's daughter Holly, 25, at Mahiki. The same night, he reportedly poured his heart out to mystery blonde he had been "transfixed" by.
Comments
comments