Prince William will meet the family of a soldier who died in Iraq during an official visit today (24.04.09).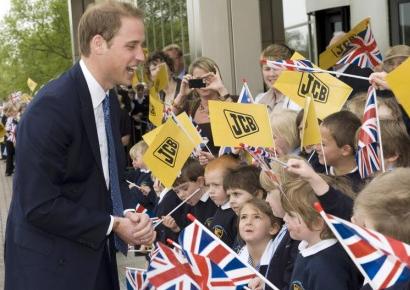 The 26-year-old royal will talk to Tricia Wall, whose husband was killed in 2003, and the couple's son Adam when he visits the National Memorial Arboretum (NMA) in Staffordshire, central England.
William is also expected to meet a soldier who was hurt while serving with his regiment in Basra.
The Arboretum houses the Armed Forces Memorial, which is a tribute to all those who have been killed during conflict since World War II.
While there, the prince will launch the National Memorial Arboretum Future Foundations Appeal.
The appeal hopes to raise £8 million to help transform the memorial into a state-of-the-art establishment.
The Royal British Legion explain: "Following a huge surge in visitor numbers, to the 300,000 mark in 2008, the NMA Future Foundations Appeal is tasked with raising £8 million which will be used to expand the site's infrastructure and enable it to become a world-renowned centre for remembrance.
"The funds will go towards a new education facility, Veterans Pavilion and central space where major memorial services can be held."
William will also be asked to become patron of the appeal.
Meanwhile, Prince William also revealed a secret brace.
The second in line to the throne is clearly having trouble keeping his teeth in line with themselves.
The 26-year-old, whose balding pate is gaining ground at a rapid rate, is following a trend for adults to have braces fitted.
He was originally fitted with a £3,000 ceramic attachment when he was 14 and until yesterday no one knew he needed further treatment.
However it was later confirmed that he has been wearing a permanent wire for the past ten years on the advice of an orthodontist.
It is believed the prince had the work done privately at a cost of around £2,000.
Clarence House said: "Prince William has used a permanent support for his bottom teeth for ten years."
Comments
comments