Prince William claimed he was graffiti artist Banksy in a speech yesterday (11.05.09).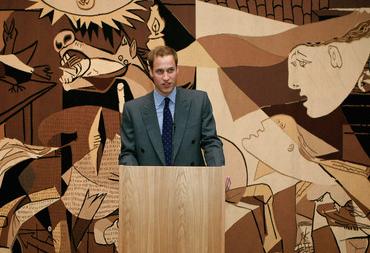 The prince, who is second in line to the throne, made the joke at London's Whitechapel gallery, a space for contemporary art, as he opened a new extension to the building.
He started his speech by saying: "Before I start I would like to admit something. I am actually . . . Banksy.
"I thought that this would be a good forum to bring it out. Any autographs I will do later."
The prince – who studied History of Art at St. Andrews University before switching to Geography – was given a tour of the gallery by artist Michael Craig-Martin, and showed off his knowledge.
The artist said: "Because he studied art history you could tell he was very comfortable looking at the work. He showed a natural interest in the things I was showing him.
"It can be difficult taking someone round an exhibition, but he expressed interest in these paintings both about the technical aspects and the subject matter. I never got the feeling that he was trying to escape."
William took a particular interest in Chris Ofili's 'Painting With S**t On It', which featured elephant dung.
Michael added: "He was very amused by that. He said he liked it. I did point out to him that it was elephant turds. He was obviously quite taken with it."
He was also shown British Council works including a Damien Hirst spot painting and works by Lucian Freud, art duo Gilbert and George and David Hockney.
Controversial street artist Banksy's real identity is unknown. He is believed to be aged around 25 and hails from Bristol.
He is famed for his graffiti words and stencil-style work in public areas.
Comments
comments