Prince William has attended an evening of music and food to mark the end of his year as patron of a charity appeal.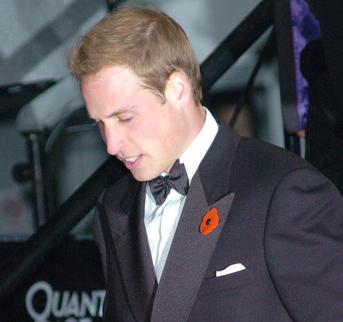 Jennifer Pike, who was a teenage classical violinist at St Paul's Cathedral in London, entertained the Prince as well as an audience of 500.
Miss Pike, who won the BBC Young Musician of the Year competition in 2002 when she was 12, performed Mendelssohn's violin concerto in E minor.
She was donning a red dress and was accompanied by the Philharmonia Orchestra.
The Grand Finale evening was in celebration of the end of the Lord Mayor's appeal for 2008.
Every year the Lord Mayor of the City of London chooses one or more charities to benefit from his appeal.
This year money was raised for Wellbeing of Women, of which the Prince is a patron.
It funds research into women's health, and Orbis, which works to prevent blindness in developing countries.
Lord Mayor David Lewis revealed: "I have had such a wonderful and exciting year with tremendous support from many people and organisations in the City. I am delighted that many of our friends have joined us to celebrate the Grand Finale to my Lord Mayor's appeal."
Prince William me met some of the performers including Miss Pike after the hour-long concert. The prince also praised Miss Pike's performance and confessed to his own musical efforts in the past.
He said he used to play the trumpet and drums at school.
Miss Pike, 18, revealed: "We were also talking about John Williams, contemporary music and film music.
She described the prince as "so down to earth."
Director of Wellbeing of Women, Liz Campbell, revealed: "We are thrilled that the Lord Mayor has chosen to honor us by supporting Wellbeing of Women through his appeal."
The money raised will enable the charity to set up a research program into complications in pregnancy.
Orbis is working with local hospitals in India to help them provide quality eye care for children.
The Prince revealed of his involvement with the appeal: "It is fantastic that enough money has been raised for the two charities to develop their life-saving projects and I look forward to following the progress of these valuable initiatives in the future."
The final fundraising total has not yet been disclosed.
Comments
comments