Prince William, who was previously serenaded by Mick Jagger, visited the home of his girlfriend Kate Middleton through military aircraft.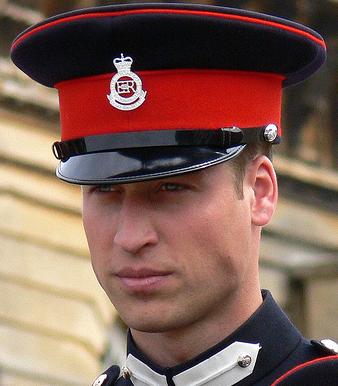 His use of military aircraft has led Navy bosses to abandon a jet fly-past to celebrate the return of the Ark Royal.
Senior officers believed the plan to have a Harrier fly over the aircraft carrier on its arrival back at Portsmouth could turn into a public relations disaster and be regarded as a "waste of taxpayers' money".
Their decision was made after Prince William was heavily criticized for using Chinook helicopters to land outside the home of his girlfriend, Kate Middleton, and to fly with Prince Harry to the Isle of Wight for the stag party of their cousin Peter Phillips.
Ark Royal's new commanding officer, Capt John Clink, had been due to watch his pilot brother Adam fly the Harrier overhead as the aircraft carrier sailed into port.
A leaked e-mail sent from the ship indicated: "If the fly-by does happen the Harrier will be flown by Lt Cdr Adam Clink. We need the aircraft for a brief tracking trial anyway."
But Fleet Headquarters disagreed, saying the stunt involving the Clink brothers could be seen as a waste of money and tabloid newspapers would "have a field day."
A leaked internal memo revealed: "With regard to the fly-past, taking into account the recent coverage of Chinooks and Princes and naive publicity stunts that waste taxpayers money, I would strongly advise that you do not do this. I do think it is a great story, and when the Naval Strike Wing embark with Adam we should milk it for all it is worth. But the fly-past at this stage has a serious chance of backfiring."
Naval Strike Wing is based at RAF Cottesmore in Rutland, about 150 miles from Portsmouth, and a special flight could have cost thousands of pounds.
However, military experts said the fly-past could have been made for virtually no cost by incorporating it into an existing training program.
One expert revealed: "If you just put a slight dogleg in a flight plan so it went over Ark Royal that would hardly cost anything at all. But after all the publicity about Prince William they were damned if they did, and damned if they didn't, on this one."
Royal Navy sources said the veto was "disappointing" and the fly-past would have helped to show off the 25-year-old warship on its return home from a seven-week exercise with a US-led task force off Florida.
Its role there was to embark US Marines, both troops and their helicopters, as part of a marine expeditionary task force.
Ark Royal has been a helicopter-landing platform since being refitted in Oct 2006 and the fly-past would have seen her reunited with the Harrier aircraft she was designed to carry.
But a Royal Navy spokesman said: "Fleet Headquarters did advise that the fly-past carried a serious risk of back-firing if there was tax payers money being wasted."
Capt Clink, the 44-year-old former navigator of HMS Invincible, took command of Ark Royal two weeks ago in Florida and described it as a "dream come true".
One serving sailor on Ark Royal, who did not want to be named, said: "I know we've only been gone a few months but it would have been good to have the Harrier."
The ship will now spend six weeks in maintenance before sailing for a Nato exercise off the coast of Scotland.
Comments
comments