Pictures of Britain's Prince William cooking for the homeless have been released for the first time.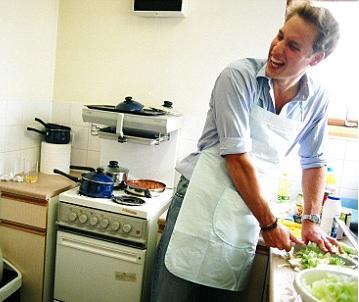 The prince spent two days working in a London homeless shelter in September 2006 for Centrepoint, a charity supported by his mother, the late Princess Diana.
Roger Defore, the centre's then-manager told Hello magazine: "He did everything a good volunteer would do. Waking the residents up, setting up breakfast, making sure they knew what they were doing that day.
"Then he helped with the tidying up, making beds, phoning hostels and checking for vacancies, chasing up people's housing benefit.
"He was really good – you would have thought he was a member of staff, really laid back, with a lovely manner with young people.
"It's surprising how quickly you forget who he is; he's just Will. He's got a great sense of humour – a bit warped. Once he teased an ex-CEO saying, ?Go away, you're too old – we don't work with people your age!' "
Princess Diana took William and his brother Prince Harry to meet homeless people when she was Centrepoint's patron in the 90s.
When William left university in 2005, he also became a patron of the charity.
Explaining his decision to support the charity, William told guests at a Clarence House dinner last week: "My brother and I were lucky enough to grow up supported by the love and nurturing of our family. They saw to our education, our health, our well-being and every other need.
"So many young people have none of this. It is for them that Centrepoint represents the difference between misery and dejection and a sense of hope and renewed confidence."
Sharon Lewis – who was once a homeless single mother and is now manager at Centrepoint – remembers the prince visiting the shelter as a young boy.
She said: "In the 1990s, Diana used to visit the short stay services and often brought her boys down to serve breakfast. Maybe that's why William is so hands-on now – because that's the way he was brought up.
"I think she did that so he would be aware of other people in society and that not everyone has been as fortunate as he has."
Comments
comments