Kate Middleton might not have a ring on her finger yet, but she did get a very special 27th birthday present – a visit from her dashing Prince at her family home.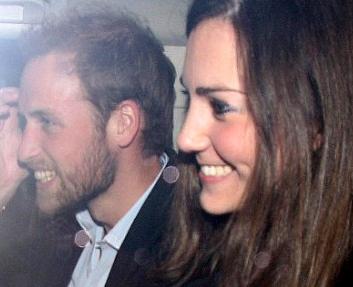 The brunette beauty decided to stay at home with her parents to keep her birthday as a low-key affair. She asked Prince William to join her for a private celebratory dinner party with her father Michael, mother Carole, younger sister Pippa, 24, and brother James, 21.
It is the first time that Prince William has actually been seen at the Middletons' house in Bucklebury, Berkshire, though he has stayed there several times secretly.
The last time he was there it was a briefer and more controversial occasion, when he landed a £10million RAF Chinook helicopter in a field owned by Kate's father while he was on a training flight.
This time, he drove to the Middletons in his black Audi shortly before 9pm on Friday and stayed the night with his girlfriend of six years. Then he drove to Highgrove yesterday afternoon.
A source revealed: "[Prince] William stayed over and left at about 12.30pm. His three security officers stayed down the road, so William could be on his own with Kate and her family."
As for the speculation that the Prince is about to pop the question, a senior courtier revealed that Prince William has no plans to propose, saying: "There's no movement on that front; nothing's happening at all."
Friends say Prince William has no plans to marry until he has finished his military training.
A friend of the Prince revealed: "We all keep asking him when he's going to propose to Kate because they've been together for so long, but he says he's not in a hurry. They are very close, and recently they have spent some quality time together. Kate was not very well just before Christmas but she was well enough to go to Balmoral afterwards and they had a lovely, relaxed time."
Comments
comments