Sarah Ferguson, the Duchess of York, took Princess Beatrice to Sir Elton John's White Tie and Tiara ball Thursday night. The Duchess of York wore a Chopard choker and white evening gown, while the princess wore a black boho-style evening dress.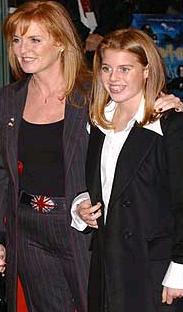 Arriving guests walked down a hot pink carpet to the garden which was decorated with original stage inflatables from Elton's Red Piano Las Vegas show and ice sculptures in the design of hotels from the Las Vegas strip.
These were draped in Chopard High Jewelry, which sponsors the event. Stars – including supermodel Elle Macpherson, celebrity chef Gordon Ramsay and actors Sir Michael Caine and Dame Judi Dench – dined on Surf'n'Turf and Knickerbocker Glory ice-creams in a go-go girl filled Chapel of Love.
The singer serenaded the crowd with a selection of his greatest hits, while Welsh singers Dame Shirley Bassey and Sir Tom Jones also performed. It was the ninth annual White Tie and Tiara ball which raises money for the Elton John AIDS foundation.
Comments
comments